Our region is gorgeous in its winter coat! Head to the all-new Versō hotel in Magog to take full advantage. Located on the edge of the beautiful Lake Memphremagog, it's the perfect place for those who want to take in the joys of winter in and around Magog in total comfort. From your room, watch the tranquil sunrise over the frozen lake as the snow falls gently. Enjoy the sparkling winter sun and a range of outdoor activities, immerse yourself in culture in the region's art galleries, and of course, visit some of the local artisans' shops. Join us in countless activities this winter in Magog.
Winter Sports in Estrie
Lace up your ice skates at the hotel and head to the ice trail just in front. This 2.8 km frozen path offers four circuits with a panoramic view of Lake Memphremagog. The trail is lit, so you're welcome even after sundown.
Fan of snowshoeing? Explore the Marais de la Rivière-aux-Cerises, located just a few minutes from the Versō hotel, and roam its snow-covered trails with your snowshoes (or without!)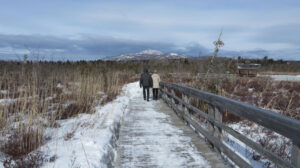 The 'Pionnier' trail is a beginner-level 3.6 km round trip. The snowshoe trail is 1.8 km long and is also beginner-level. Take your time, admire the breathtaking landscape and stop to hear the snow fall and the birds chirp.
Fresh air fans: for an unforgettable alpine skiing or snowboarding trip, head to the Espace 4 Saisons hotel, at the base of Mount Orford! Click here to check out our best tips on preparing for your trip.
Shopping
Downtown Magog is two minutes on foot from the Versō hotel. There, you'll find charming shops to satisfy any taste. What's more, in order to make transportation easier and promote local business, the Main Street parkings, between Sherbrooke and Merry streets, will be free during the holidays (December 1, 2021—January 7, 2022 inclusive!)
If it's too cold to stay outdoors, it's time for a local shopping spree. Hop in your car to explore these lovely shops:
Bleu Lavande's boutique, a new addition to Magog, is open all year round and offers relaxing natural lavender products.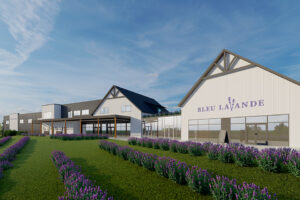 La Savonnerie des Diligences, in Eastman, offers quality artisanal soaps. Each product in the 'Légendes' collection tells a bit of the region's story.
Chocolats Vanden Eynden, in Magog, is the perfect place to grab some sweet treats to bring home. Give in to its house specialty hot chocolate or the popular Cantons-de-l'Est box.
Ducs de Montrichard, in Orford, offers delicious duck products, such as terrines, foie gras, jellies, and pâtés.
La Grange du Parfumeur, ten minutes by car from the hotel, is a fragrance crafting workshop in a hundred-year-old barn. The perfumes are made with superior-quality natural ingredients. Treat yourself to a fragrance by Alexandra Bach, with a tempting name like 'Sous l'abricotier', 'Valse bleue', or 'Rêve à Paris'.
Cultural Circuit
Magog is a city of culture with many beautiful art galleries. It's home to the Musée international d'art naïf de Magog, where you can enjoy the many temporary and permanent exhibitions showing off this fascinating visual style.
There's also the popular Galerie d'art Courtemanche, only open Saturdays from 9 a.m. to 1 p.m., where the works of 15 regional artists are displayed.
To learn more about Magog's history, head to the Maison Merry, the oldest house in the city of Magog. This museum is committed to the conservation of the region's history.
Le Vieux Clocher de Magog offers a rich winter entertainment program. Among the available shows, you'll find several comedians (Maude Landry, Phillippe Laprise, Alexandre Barrette, and more) as well as singers and popular bands (Patrice Michaud, 2Frères, etc.)
Finally, what would a visit to the heart of the nature of our region be without a stop at the Saint-Benoît-du-Lac abbey? The view of the abbey covered in fresh snow will melt the coldest of hearts. Enchanting is the best word to describe this place of reverence and prayer. The shop, where products created by the abbey's monks are sold, is open Monday to Sunday, 9 a.m. to 6 p.m.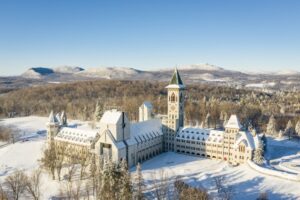 Restaurants
All these activities can stir up quite an appetite. After a long skating or snowshoeing trip, warm up with a nice hot chocolate or a delicious soup at the Kómptoir. For a nutritious and restorative snack on the go, there's no better place!
In the evening, treat yourself to a fresh culinary experience at Kóz, Mediterranean bistro, located within the Versō hotel. Enjoy dishes full of colour and flavour, inspired by Greece and Turkey, in a warm and friendly atmosphere. Our Sommelier can also find you a wine that will pair perfectly with your chosen dishes.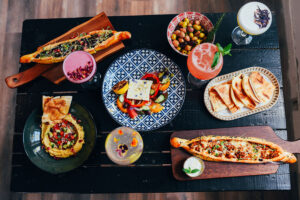 Book your stay now at the Versō hotel. We can't wait to see you this winter in Magog!
---
To read our other blog posts, click here!