Mother Nature has given us a few hints… There's a snap in the air and the leaves are changing colour. Fall has definitely arrived! In the Eastern Townships, this is a particularly beautiful time of year. With our spectacular landscapes and tons of attractions and activities—set amidst a background of dazzling fall colours—there's no better time of year to visit the region.
The Versō hotel in Magog, on the shoreline of Lake Memphremagog, is the ideal jumping off point for exploring the area. Leave your luggage at the hotel and set off for some unforgettable adventures!
The Great Outdoors
To admire the colours up close, head for the mountains. In September, October and November, you can enjoy all sorts of outdoor activities—hiking, cycling, mountain biking, ziplining… The list goes on!
From mid-September to mid-October, Mont-Orford plays host to the Flambée des Couleurs with special events to celebrate the fall colours. Hike to the top (or take the cable car), where you'll find walking trails interspersed with five lookout points that give panoramic views over the blanket of yellow, orange, red, and burgundy, far below.
You can also ride to the summit of Owl's Head by ski lift (until October 9) to admire the views from there. If you're up to the challenge of a bracing hike, you can, of course, walk to the top on your own two feet!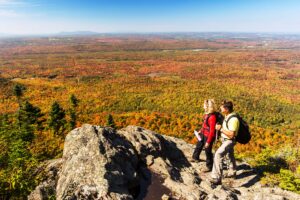 Gourmet Events
Fall is the harvest season—a time when agritourism (in its various forms) comes into its own.
Throughout September and the beginning of October, the local vintners start gathering their grapes. You can visit the vineyards, sample (and purchase) some of their vintages and at a handful of places, even offer to help the winemakers harvest their fruit!
If you missed the Grande Coulée beer festival, which is held in mid-September (also at Mont-Orford), don't worry—this is an annual event and you can make a note to go next year. The Festival des Bières in Waterloo returned this year (September 23) and will likely be held again in 2024, if the region's many microbreweries have anything to do with it!
A brand-new gourmet festival in Granby has joined the list of fall festivities this year. Les Folies Gourmandes runs from September 30-October 1, and close to 50 participants will be on hand to showcase their products. There will also be a number of food-related presentations by well-known personalities such as Geneviève Everell (Miss Sushi à la maison), Loounie (Mordu), Florence-Léa Siry (Moi j'mange) and Claudia Doyon (La Chaufferie).
October 7 and 8 sees the return of the hugely popular Virée gourmande des Comptonales, an agritourism route where foodies can stop along the way to chat to producers and buy their wares. That is followed by the Marché des récoltes ("harvest market") in Compton, on Monday, October 9 (Canadian Thanksgiving in 2023)—a farmers' market where visitors can buy fresh, local produce.
In Meditative Mode
Looking for an opportunity to step off the bandwagon for a day or two, after the frantic activities of summer and holidays with the kids?
On October 27 and 28, the Saint-Benoît-du-Lac Benedictine monastery allows you to do just that. Under the guidance of spiritual teachers, participants (aged 18-35) in the "école abbatiale" program will learn about meditation and the art of silence. The weekend also includes a tour of the monastery, listening to Gregorian chants and the opportunity to taste the different cheeses and ciders made by the monks.
Maybe you'd prefer to chill out at a spa? In our picturesque region, there are many beautiful spas to relax and get off the planet for a while…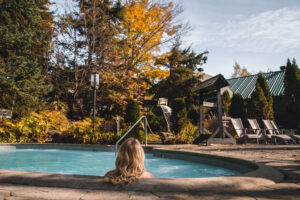 With Family
There are lots of fun activities to enjoy with your youngsters. You can, for example, visit U-Pick orchards and farms to gather apples, squash and pumpkins, cycle along (easy) bike paths, or hike through the forest on trails that are not too challenging. In fact, you could spend an entire weekend just visiting venues that are geared towards kids!
The Granby zoo, for instance, is open until October 29. It is organizing Halloween-themed activities and yes, you can all come in costume, disguised as your favourite character!
Walking over the suspension bridge at the Gorge de Coaticook park, is another exciting experience, as is wandering around its Foresta Lumina after dark—a magical kingdom illuminated with fantasy figures and special effects (until October).
The VéloVolant at the Au Diable Vert mountain resort is certainly worth a detour. A type of "flying bike" suspended on a cable, the VéloVolant allows the rider to pedal across the treetops (designed for children aged 12 and older).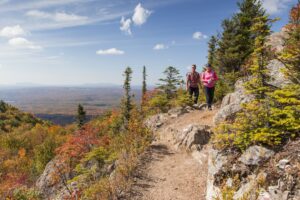 To get the most out your fall visit to the Townships, take a look at our new package: A Hike in the Tōwnships. This package includes one night's accommodation, access to the hiking trails at Mount Orford National Park (operated by SEPAQ), as well as a delicious breakfast and lunch at the Kóz bistro.