The frantic pace of life today scarcely leaves you time to draw breath! Between commuting on the subway, pressures at work, sleep deprivation and last, but certainly not least, non-stop news on social media—it's no wonder we want to get away from it all!
How about taking a break by following the fast-growing trend of "slow travel"?
.
So What Exactly Is That?
Slow travel combines a number of elements: taking your time, absorbing the emotional effects on your body and your psyche, respecting the locals and taking into account the impact your trip might have on the environment.
The opposite of slow travel is to spend three days, say, somewhere on the other side of the world, in peak tourist season, visiting as many places as possible within a short period of time, eating on the go (often unhealthy fast food), then returning home. Not exactly restful…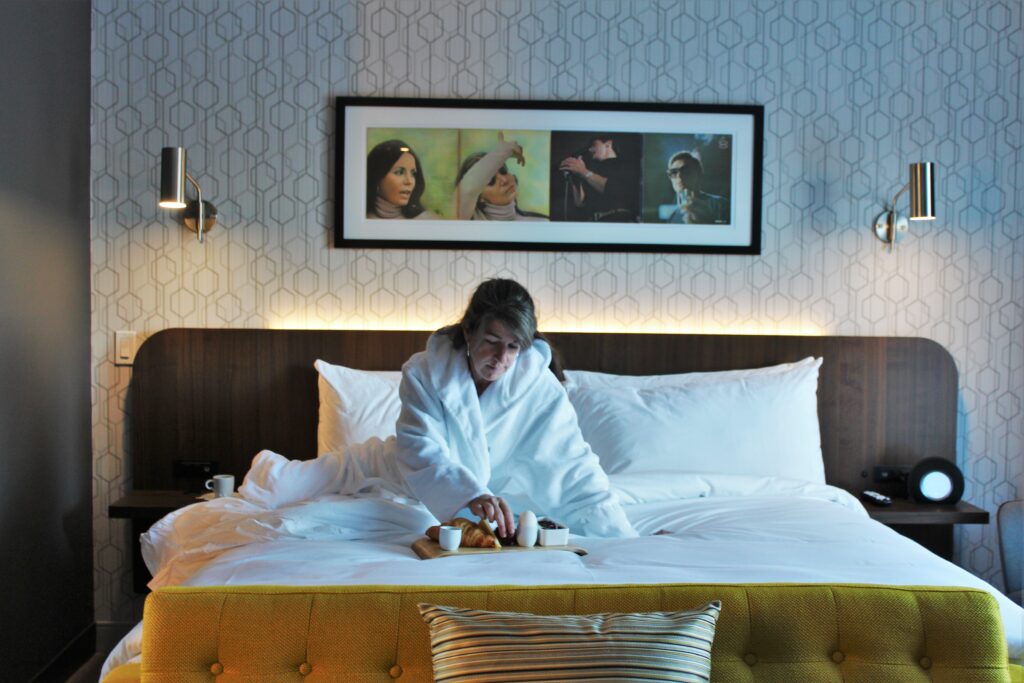 How to Adopt a Slower Way of Travelling?

First of all, slow travel means focusing on the manner in which you experience the trip, rather than on the destination itself. In other words, exploring a region in depth, instead of buzzing around from one attraction to the next. The way to do that is by opting for walking, cycling or even hiking, allowing you to really appreciate the landscapes, the views, the cultural heritage…
Secondly, slow travel means opting for the local cuisine rather than eating in fast food restaurants, sampling dishes made with regional products and homemade ingredients. What better way to capture the flavour of an area? (In both senses of the word!)
Another aspect of slow travel is learning a bit more about the region you're visiting, through music, museums, art galleries, etc., and chatting to the locals when you're out and about. You learn such a lot by asking questions, listening to another person, and reflecting on their point of view.
Finally, you don't need to head to another continent to enjoy slow travel. You can experience a slow-paced vacation in your own country, your own province, your own region, and even in your own city!

Slow Travelling—Right Here!
Slow travel in the Eastern Townships? Absolutely! Here are some ideas for enjoying a vacation in a leisurely, more meaningful way.
Opt for travelling in the off season
Although this is a tourist region, the flow of visitors goes up and down according to the time of year. The best days to visit are during the week or in the low seasons. That still generates revenues for the tourism sector, but more to the point, those periods are more relaxing for you (and also cheaper!) than in high season when there are more people around.
Park the car and leave it
Magog is a small town and most attractions (shopping downtown, the Vieux Clocher theatre, etc.) are within walking distance. If you want to explore the surrounding region, you can meander along the country roads on a bicycle… or even relax on the deck of a boat, drinking in the scenery as the world slips by. (Well, perhaps not in winter!)
Appreciate the bounty of the land
The Eastern Townships is a major venue for agritourism and it is home to a multitude of gourmet food producers. As you wend your way around the vineyards, cideries, cheese factorys and chocolatiers, sampling their delicious goodies as you go, you'll really appreciate the quality of our local produce.
Absorb—don't just observe—the exhibits at a museum
When we visit a museum, we tend to just walk from room to room, casting a cursory glance at the exhibits. A slow traveller, on the other hand, allocates enough time (at least a couple of hours) to soak in the ambience and to take in the fine details of what is on display.
The Musée international d'art naïf de Magog (museum of naive art), is only a 10-minute walk from the Versō hotel. The museum houses some 1,300 colourful, quirky works—a notable collection that's certainly worth your time!
Experience the luxury of silence (in today's world!)
The Saint-Benoît-du-Lac Abbey is a Benedictine monastery where the resident monks devote themselves to a life of religious contemplation. It also happens to be a popular tourist attraction so it can be quite busy during the summer months. In the low season however, it reverts to being a haven of reflection and tranquility, exuding a peaceful ambience, enhanced by the Abbey's natural surroundings.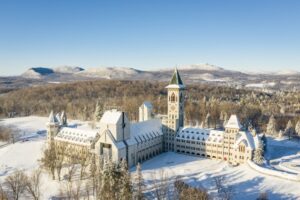 To enjoy these "slow" travel experiences, there's no better place to stay than at the Versō hotel. Overlooking scenic Lake Memphremagog, Versō is an ideal base from which to explore our picturesque region. Moreover, our team will be more than happy to offer you advice on what to see and do, without having to rush around the region!