Perhaps you're wondering how the Versō hotel got its name? Basically, because of its location!  The front of the building faces the calm waters of Lake Memphremagog; the back looks out over the picturesque landscapes of the Eastern Townships and downtown Magog. They say Recto et verso in French (it's originally from Latin)—i.e. front and back!
The hotel was originally called Auberge de l'Étoile (later becoming Hôtel Étoile-sur-le-Lac) and it was founded in 1950 by the Leclerc family. Back in the 1960s, it was already becoming popular with tourists and locals, largely due to its location and the spectacular views over Lake Memphremagog. The opening of Autoroute 10 in 1964 also made the hotel more accessible to visitors from Montreal (and elsewhere).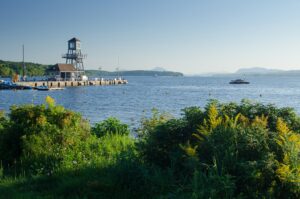 In 2021, in order to bring it up to modern standards, the property underwent extensive renovations. At that point, we also wanted to give it a new name, something that would encapsulate the many attractions on the hotel's doorstep—the aforementioned panoramic view, cultural venues, retail outlets, fine dining and so on… Hence, Versō!
We thought it would be fun to ask you to take a light-hearted quiz (certainly not scientific!) to determine whether you are a "recto" or a "verso" type of person!
Would you prefer…
A stroll along the lake, navigating Lake Memphremagog on a kayak or paddle board, or simply watch the world go by while being serenaded by birdsong?
Go shopping downtown, follow the wine route or set off on a unique adventure?
Do you like to stay at a place with…
A contemporary, urban-chic décor with splashes of bright yellow?
A sober, tranquil décor, illuminated by natural light?
Are you the type who likes to…
Go out to the theatre, make a restaurant booking for 9 p.m., then prolong the evening by hanging out at a bar?
Stay in your room, don your bathrobe, and curl up with a good book?
Your favourite activities on a trip are…
Visiting museums, shopping, exploring the local food scene, participating in seasonal celebrations?
Hiking, biking or rock climbing?
You travel…
On your own or as a couple?
With your family or friends?
If you chose mostly 1's, you are a "recto" type of person! If the majority of your choices were 2's, you're more of a "verso".
All manners of people are attracted to Magog and the spectacular Eastern Townships—art lovers, culture vultures, foodies, fans of the great outdoors… By staying at Versō, you too will discover your heart's desire!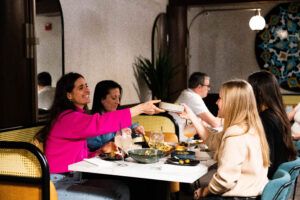 We offer a contemporary décor and 54 super-comfy bedrooms (with a view of the lake or the city) and restaurants serving gourmet fare, such as our excellent Kóz bistro with its innovative menu, inspired by Mediterranean cuisine.