When the sun is beating down, there's nothing more refreshing than taking a dip! In and around Magog there are several places to do just that. 
The following is a list of the best places for swimming (or just hanging out), along with some tips about what to take with you to the beach. 
Ready, steady… Splash!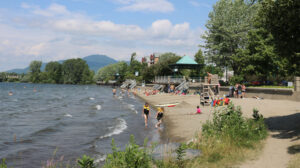 Where to Swim
Plage des Cantons and Plage de l'Ouest  
Located on the shores of Lake Memphremagog, these public beaches are only a stone's throw from the Versō hotel. Within easy walking distance, you can enjoy watersports such as paddleboarding, kayaking, and windsurfing (as well as swimming, of course). If you didn't bring your own equipment, you can rent what you need from Vie de plein air. A lifeguard is on duty from 11 a.m. to 6 p.m. to keep an eye on the kids, and adults can swim within the roped-off area in the open water.  
The Lac Stukely beach lies within the Mount Orford National Park, a 10-minute drive from downtown Magog. Set amid stunning mountain scenery, it's the ideal spot to spend a day with the family. There's a children's play area and you can rent a variety of watercraft—paddleboards, canoes, kayaks, pedal boats, and rowboats. You might get hungry after a swim, so don't forget to pack something to eat. Barbecuing is permitted and there are picnic areas where you can tuck into a snack.  
Splash Pads 
Another way to cool down (and have fun!) is to head for parcs Horan, des Hautes-Sources or Omerville, where jets of water on splash pads will revive you in no time at all!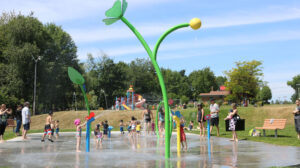 What to Take With You
It's a good idea to prepare a checklist of essential items before you set out for a day at the beach.  
Sand reflects the sun's rays and it's important to protect yourself. It goes without saying that you should bring something to cover your head, sunscreen and (especially for the little ones), ultraviolet protection factor (UPF) swimwear. Folding deckchairs and a parasol can also provide a shady spot to shelter from the sun.  
And don't forget your swimsuit, beach towels, sunglasses and sandals or water shoes. The sand can very hot and burn the soles of your feet!  
If the kids are coming with you, consider bringing things to amuse them—sand toys (a bucket and spade for example), a beach ball, inflatable pool floats, etc. To pass the time while the kids play, you might want to have some entertainment on hand as well—a tablet computer, a good novel, a book of Sudoku puzzles… Whatever you prefer! 
If you plan to spend a few hours at the beach, don't forget to pack liquid refreshments and something to eat.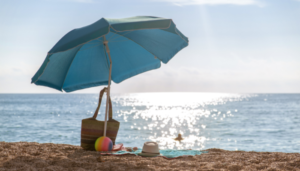 What to Pack in Your Picnic Basket
Most important is to bring a reusable water bottle. Just because you're in the water all day doesn't mean you can't become dehydrated. Incidentally, glass containers are not permitted at the beaches. 
And then, why not treat yourself to some regional produce? For example, you could buy ready-to-drink cocktails from the Cherry River distillery or craft beer from the Canton Brasse microbrewery, any number of local cheeses, smoked trout from the Bobines farm, a crisp baguette from L'Atelier du Pain bakery, fruit compotes and spreads from the Saint-Benoît-du-Lac monastery… The list goes on!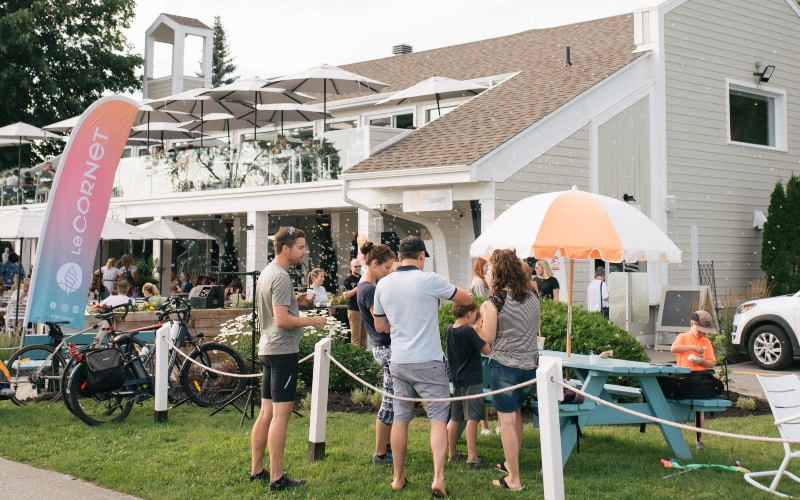 In the afternoon, enjoy a delicious ice cream or a decadent sundae at the brand–new LeCornet dairy bar. It is located in our hotel, right across from the bike path and the Lake Memphremagog shoreline. LeCornet's frozen treats will definitely delight young and old!